Letter from prison
I have a lot of energy to struggle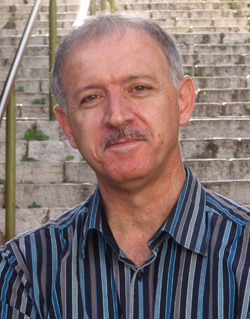 The following is an excerpt from a letter by Palestinian political prisoner and civil society leader Ameer Makhoul, written in response to a postcard featuring an image of a lighthouse sent by The Electronic Intifada contributor Adri Nieuwhof. A citizen of Israel, Makhoul was arrested in his home on 6 May 2010 and held in isolation and refused a meeting with his lawyers or family for 12 days following the arrest. The Israeli government indicted Makhoul with trumped-up charges of espionage and assistance to the enemy in a time of war, which carries a life sentence. According to Makhoul, during that time the Israeli authorities used severe interrogation methods that caused him both psychological and physical harm. Last month Makhoul agreed to a plea deal to avoid lengthy imprisonment and now faces a maximum sentence of seven to ten years.
*
The lighthouse, al-fanar in Arabic, is an inspiration. I have built a lighthouse here in jail. It has been built in my mind because I am not allowed to use the space, but my mind is totally mine. Al-fanar became part of my vision and dream for freedom and human dignity. The lighthouse is out of prison, while the role of the anchor is to be rooted and safe. In fact, I need both -- al-fanar to give direction to my vision, while the role of the anchor is to understand where I currently am. I need to be balanced and realistic to act within a totally unbalanced reality. I need to challenge and to change. I need, and we need to change. The anchor is needed in order to act. The lighthouse shows how and where and for what.
It is not easy to have both elements, especially to "new" prisoners of freedom. It is defined as new but it is almost half a year that I have been in prison. Several prisoners have already been here 23 to 28 years. So I am relatively new here, but for me every day is a lot of time, with a lot of suffering and reflecting on the reality of being Palestinian in my homeland.
To be proven innocent is totally not accepted by the court. Thousands of cases show that both the rate and the number of Palestinians who have been released as innocents is zero. Palestinians are guilty, it is the only option. The Shabak [Israel's internal intelligence agency, also known as the Shin Bet] monitored and recorded 30,000 of my telephone calls and those in relevant circles; in addition they surveilled all email, Skype, Internet and electronic media. Yet they declared in the court that they have no material evidence.
Based on my experience and on the findings regarding 7,000 Palestinian prisoners in Israeli jails, the Shabak having no evidence does not mean the end of the game. They have their secret weapon, which is the so-called "secret evidence." They present it to the judges, but neither me nor my lawyers are allowed to know what it is about. The Israeli system will never blame the state or the Shabak, but will blame their Palestinian victims.
Statistics and experience show that without a deal with the attorney general the sentence would be double the length! So the lack of evidence is not the road to freedom. Israel will never allow its court to declare me as innocent. On the other hand, every Palestinian refugee of Arab friend or partner in the Arab world is potentially considered a so-called "foreign agent." The state's role is to blame and the victim's role is to explain, even to prove that he or she is innocent. I have so many friends and partners all around the Arab world and among people in the homeland and diaspora. I have no illusions, but I have a lot of energy to struggle for freedom and dignity.
*** *** ***